View Web Version
September 10, 2012
Brought to you by SpeedNews
Sherwin-Williams Aerospace Coatings has launched a new, informative website to assist aircraft coatings specifiers, influencers and users. It can be accessed by clicking on
www.swaerospace.com
THE WINDSHIELD: 09/10/2012
Brought to you by SpeedNews
THE WINDSHIELD: The most informative reading in the aviation industry. This news is a supplement to SPEEDNEWS, the weekly paid subscription-based newsletter of record for the aviation industry since 1979, which contains over 150 news items summarizing the developments in the industry week to week. To receive trial complimentary copies of our SPEEDNEWS and/or SPEEDNEWS DEFENSE newsletters, click
here
.
For advertising information, please contact
Jason Washburn
.
AIRBUS GLOBAL MARKET FORECAST
AIRBUS issued 20-year Global Market Forecast for 27,347 new pax aircraft worth $3,700b in 2012-2031 to satisfy annual traffic growth of 4.7%.
FULL ARTICLE
EMIRATES/QANTAS GLOBAL PARTNERSHIP
QANTAS formed global partnership with EMIRATES and terminated its joint business with BRITISH AIRWAYS.
FULL ARTICLE
We're focused on building a new American where technology and innovation are fundamental to the company's return to industry leadership and exceptional customer service. The Electronic Flight Bag program is just one more example of the progress we're making to provide the tools our employees need to deliver operational improvements and leading customer experience."
-AA CIO Maya Leibman
AIRBUS EXTENDS FALC AGREEMENT
AIRBUS reached agreement with its FALC partners TIANJIN FREE TRADE ZONE and AVIC to continue cooperating on project beyond 2016.
FULL ARTICLE
TWO CERTIFICATIONS FOR GULFSTREAM
GULFSTREAM AEROSPACE received FAA type certification for G650.
FULL ARTICLE
Boeing's Next-Generation 737-900ER surpassed 500 orders this week. The milestone was reached when a customer converted its 737-700s to 737-900ERs."
-Boeing
PREVENTING GROUND COLLISIONS
NTSB recommended that FAA require large aircraft be equipped with anti-ground collision aid.
FULL ARTICLE
We are extremely pleased to report the highest single-month load factor in WestJet history and I thank our caring WestJetters for their added energy in this record-breaking month. The demand environment remains strong and we are seeing a growing contribution from our airline code-shares and interline partnerships."
-WestJet President and CEO Gregg Saretsky
WHO'S NEWS
SPIRIT AEROSYSTEMS announced reorganization to better align its structure to the changing needs of the business.
FULL ARTICLE
MILITARY AVIATION NEWS
HONEYWELL secured contract to supply turbofan engines for Israel MOD's M-346 trainers.
FULL ARTICLE
We want EADS to become an even stronger international player in the aerospace and defence industry than it is today...The Group's top executive body, which has been put in place, is united in achieving those objectives and I thank the Board of Directors for their trust and support in setting it up."
-EADS CEO Tom Enders
SPEEDNEWS NEWSLETTERS
SpeedNews currently publishes five newsletters for the aviation executive, which are distributed and read in over 160 countries around the world. SPEEDNEWS is published weekly and reports in an easy-to-read format the latest news and developments in the commercial and business aviation industries. Also included with a subscription to SPEEDNEWS, is SPEEDNEWS TODAY, a daily e-mail supplement designed to bring the reader the top news of the industry in a more timely fashion. SPEEDNEWS DEFENSE BIWEEKLY reports the latest news and developments from the military aviation industry in the same concise format as SPEEDNEWS. AIRCRAFT INSIDER is a weekly publication designed for the aircraft and engine trader and contains aircraft transactions reported in SPEEDNEWS, plus the world's leading paid listings for aircraft, engines and APUs for sale. THE WINDSHIELD is a complimentary weekly supplement to SPEEDNEWS and covers the week's top industry news, highlights from current SpeedNews newsletters, and information on SPEEDNEWS activities and other industry events.
MORE INFO OR SUBSCRIBE
ABOUT SPEEDNEWS
SpeedNews was founded in 1979 as a news source for the aviation industry. SpeedNews publishes five industry-leading newsletters of record written in easy-to-read format. Since 1987, SpeedNews has also organized specialized aviation industry conferences designed for aircraft/engine manufacturers, suppliers, analysts, investors and more. SpeedNews also hosts the foremost B2B information Website for the aviation executive.
This Week in History
SEPT 10-14
1893: Co-founder of the Martin-Baker aircraft company, James Martin, is born.
1906: Jacob Ellehammer makes a sustained, tethered flight on the island of Lindholm.
1928: Charles Kingsford Smith and his crew of three complete the first trans-Tasman flight in a Southern Cross.
1930: First flight of the Taylor E-2 Cub, which later evolves into the Piper Cub.
1935: Howard Hughes flies his Hughes H-1 racer to a new world speed record of 567 kilometers (352 miles) per hour.
1942: Co-founder of the Martin-Baker aircraft company, Valentine Baker is killed during a test flight of the Martin-Baker MB3 prototype.
1944: Col. Floyd Wood, Maj. Harry Wexler and Lt. Frank Record, in a Douglas A-20 "Havoc," become the first to fly into the heart of a hurricane to gather meteorological data.
1966: One of the four founders of Delta Air Lines, Collett Everman Woolman, passes away.
1967: A rule goes into effect requiring transport airplane fuel system designs to include protection against lightning.
1993: Boeing rolls out the 1,000th 747.
1994: First flight of the Airbus Beluga.
1995: The US and the Netherlands sign the world's first bilateral aviation safety agreement.
SpeedNews Conferences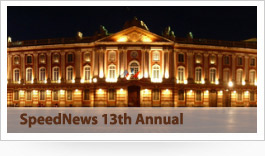 Aviation Industry Suppliers Conference in Toulouse
The SpeedNews 13th Annual Aviation Industry Suppliers Conference in Toulouse is scheduled for September 17-19, 2012 in Toulouse, France. You will hear from aircraft and engine manufacturers on the status of their new programs and learn from experts on important topics affecting the industry, including delivery and retirement forecasts and a review of the financial status of the aviation industry.
Read more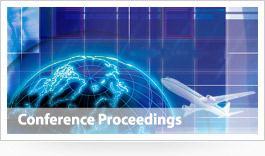 Past Conference Proceedings
For 26 years, SpeedNews has hosted renowned Aviation Industry Suppliers Conferences. At these conferences, aircraft and engine manufacturers present status reports on their programs, and industry experts offer delivery and retirement forecasts, with reviews on the financial status of airlines. SpeedNews Conferences offer reliable and expert information to participants on how to prepare for their company's future. These conferences are packed with information from leading industry executives.
Conference Watch
SpeedNews Conferences
have always been where the top aviation professionals meet to find out the latest industry developments – and
Conference Watch
gives you access to that valuable information.
Conference Watch
is a bi-monthly newsletter sent to a targeted group of aviation industry professionals around the world, that provides a glimpse into SpeedNews Conferences, the highlights and the foresights, and a look into the Conferences on the horizon. Mark your calendars for the next issue of
Conference Watch
launching on November 30th.
View the current issue here
.
If you are looking to reach decision-makers in the aviation industry, advertising in
Conference Watch
is the place. Each ad is prominently displayed within the newsletter and offers a hyperlink back to your Website.
Advertising in
Conference Watch
will offer your organization the highest visibility. Please take a moment to view our current
opportunities.
If you would like to learn more about
Conference Watch
, please email
ahunt@speednews.com
or call (310) 595-9407.
SUBSCRIBE TO PRINT
ARCHIVES
SpeedNews
Member of the Penton Aviation Media Group
17383 W. Sunset Blvd., Suite A220
Pacific Palisades, CA 90272
Tel: 310-203-9603
Fax: 310-203-9352
http://www.speednews.com
Bill Freeman
, Group Publisher;
Stephen Costley
, Managing Editor;
Christine Boynton
, Editor;
Joanna Speed
, Managing Director; SpeedNews Conferences and Subscriptions
Jason Washburn
, E-Sales
Penton Media | 249 W. 17th Street | New York, NY 10011
Copyright 2012, Penton Media. All rights reserved. This content is protected by United States copyright and other intellectualproperty laws and may not be reproduced, rewritten, distributed, re-disseminated, transmitted, displayed, published or broadcast,directly or indirectly, in any medium without the prior written permission of Penton Media.